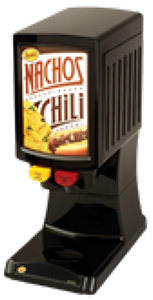 Nacho Cheese Warmer
Who doesn't love nachos...?

Our nacho cheese warmer rental includes 50 trays, peppers, 140ozs of cheese and the option of either tortilla chips or individual 1oz bags of Doritos.

Trays will hold approx. 2ozs. of cheese in the corner compartment.

Here's the skinny:
Machine requires a sturdy table.
Machine requires power.